Divorce + Empowerment + Future
dtour.life is a platform that will help you navigate one of the most difficult life transitions. Our platform includes four main components:
Family & Relationship Information
The first step in developing a narrative for your legal team is to provide all family and relationship facts. Answer a series of simple questions to easily input and store everything that you need to use in all your professional consultations. This process alone will save you significant time and money and as a bonus, far more easily identify up front if the professionals you contact are the right fit for your unique case.
Assets & Debts + Worksheets
dtour.life provides an easy to use system for documenting all the details about these assets and debts that will be needed to assist in the final distribution and settlement terms. This information flows seamlessly into the Worksheets tool allowing your legal professional to develop different Settlement scenarios.
Living Expenses + Budgets
The divorce transaction includes identifying a family's income and living expenses so that both spousal support (also referred to as alimony and maintenance) and child support can be identified. It is also necessary to understand what a family earns and spends so that all aspects of the financial settlement consider cash flow needs for both spouses. Once entered, the data will flow into our budget tool allowing you to create multiple budgets to show how settlement and spending decisions will affect your overall financial health.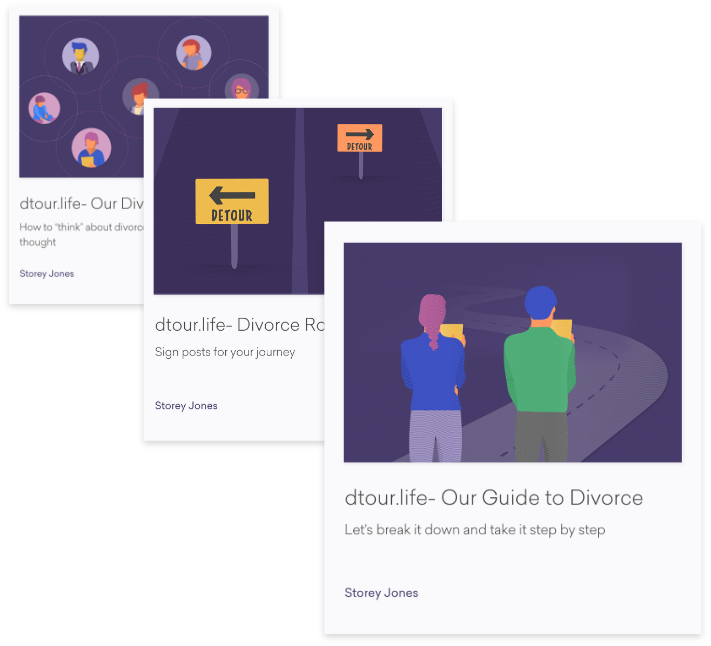 Our Learn section contains a suite of articles including Our Philosophy and Our Guide to Divorce to help provide a framework for how to think about the process, how to prepare, how to work with your professionals, how to approach a parenting plan and a host of other aspects of the complex and challenging transition.